Mike painted a blue and white bass for Rick Savage of Def Leppard.  He was on a special charity tour and at some point the bass was given away to one lucky person.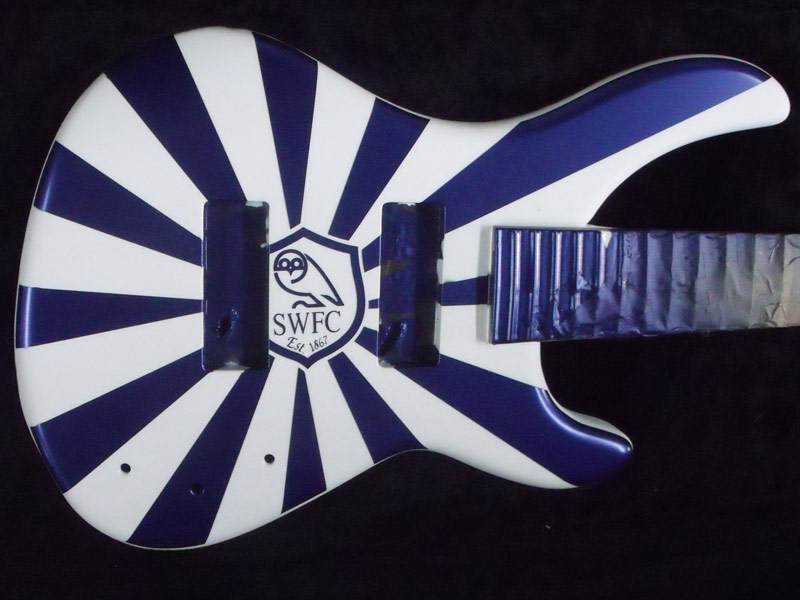 This guitar is a collaborative effort on the part Mike and Jake from Willoughby Music. This custom painted  Jackson PC1 was hand delivered to Phil at a local show. The guitar toured with Phil and Def Leppard for a summer and then returned to Jake for a Pancreatic Cancer Benefit Auction.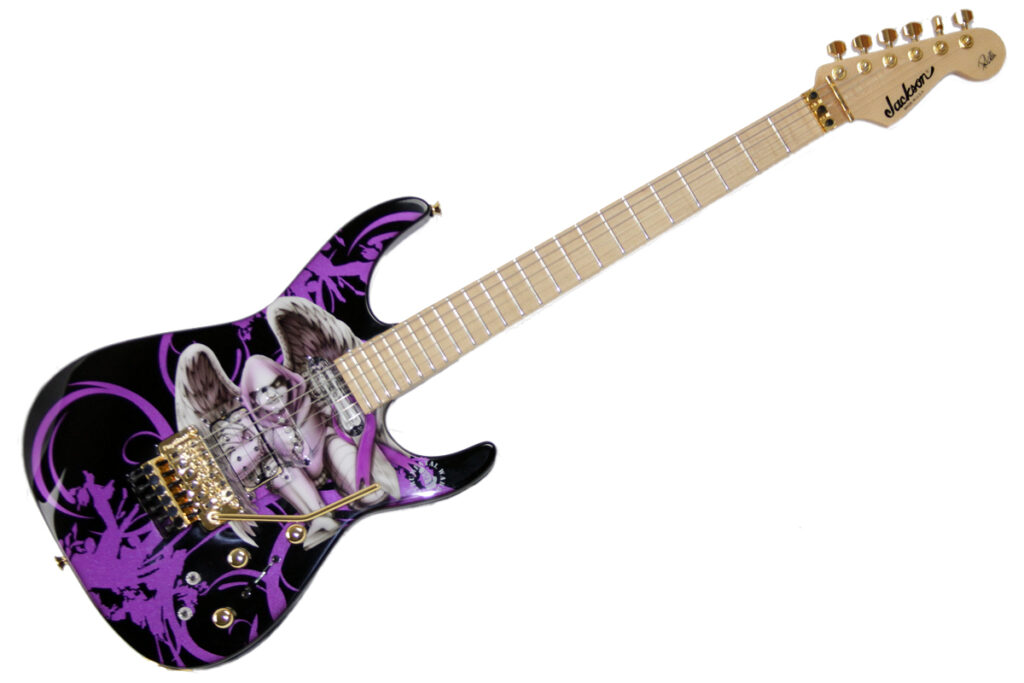 CHECK IT OUT:
The angel warrior was painted with glow in the dark paint.. here is a "shot from the closet."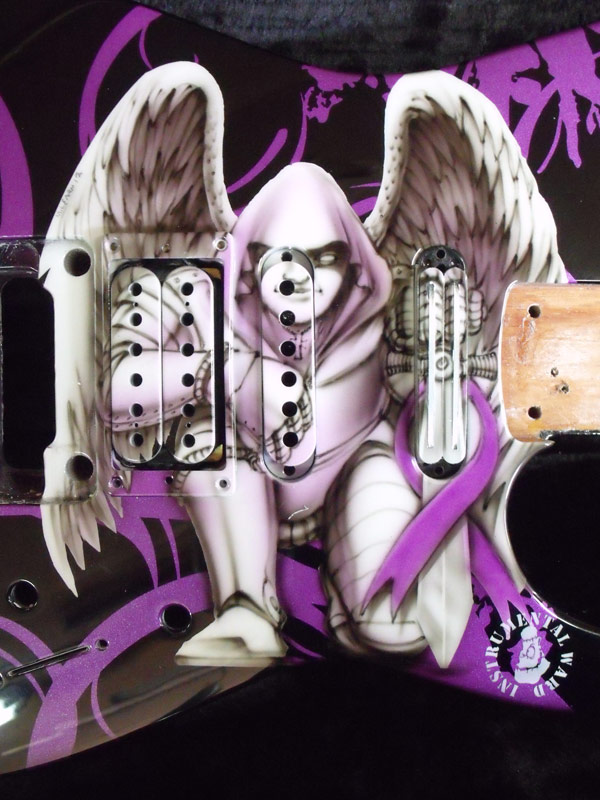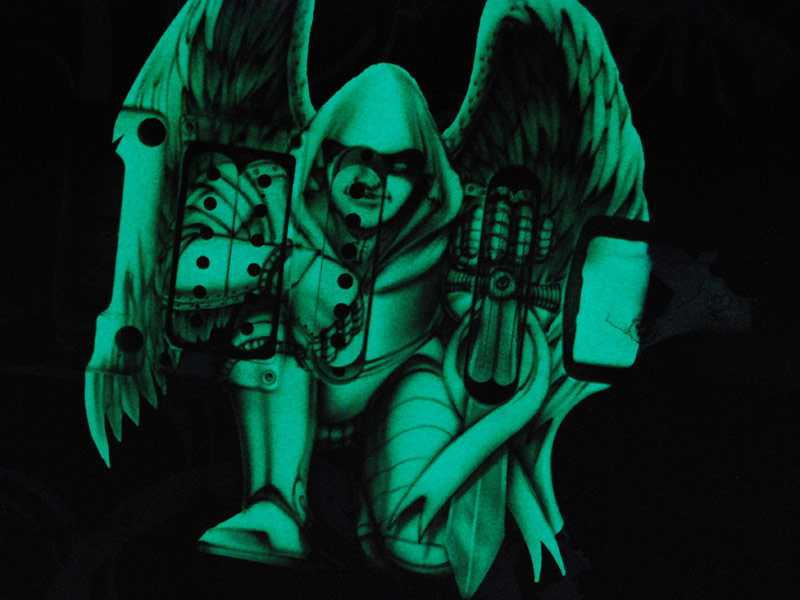 It is always a rush to see Mike's work on stage. Below is a post I wrote just after the show where we got so see both these guitars rocking on stage.
"I am writing this blog in a state of exhaustion!!  Last night we attended the Rock Of Ages 2012 Tour with Poison and Def Leppard.  We did not get in until almost 2 am!!  Ok, enough whining… because no one will feel sorry for any of us after seeing the pictures and hearing the story. 🙂

Mike and Jake Willoughby delivered the Pancreatic Cancer Research guitar to Def Leppard in the late afternoon to give the tech plenty of time to make sure it was set up exactly how Phil likes it.  We returned with the crew, ready to rock, at 6pm.

Armed with backstage passes, we started the evening with a meet and greet with Phil Collen where he video taped a piece that introduced the project and got pictures with Phil, the guitar and the guys.  We watched poison from CC Stage side and got to meet Brett Michaels after the show.

Def Leppard came on stage with a fury and sounded FANTASTIC.  I have seen them probably close to 20 times since 1984 and I believe that last night may have been the best they have ever sounded.  Simply amazing.  Strong, fantastic set, great presence.

A few songs in Phil brought out the Pancreatic Cancer Research Guitar and it looked amazing.  We watched the show from just 15-20 feet away from the front of the stage in the VIP area. It sounded great, we could practically reach out and touch the band and we had our own private dance floor!! While we were all trying to snap pictures of Phil with the guitar, I noticed that Rick Savage was playing the bass that Mike had painted for him last summer.  WOW!! So cool! That was a real proud moment.

Def Leppard rocked it for 1 hour and 45 minutes SOLID with a REALLY neat acoustic set in the middle.  Of course it ended with a crescendo of "Pour Some Sugar" and the encore of a super hard version of Rock of Ages. After the show we returned to the back stage area and hung out with Phil until the stadium cleared out.  What a gracious host, and of course, his wife Helen made sure everyone had a great time – paying special attention to the 3 little girls who were totally enamored with the whole evening.  The last thing Micah (our daughter) said to Helen and Phil after taking photos was  "Justin Bieber sucks." What a fitting end. hahahahhaha!"