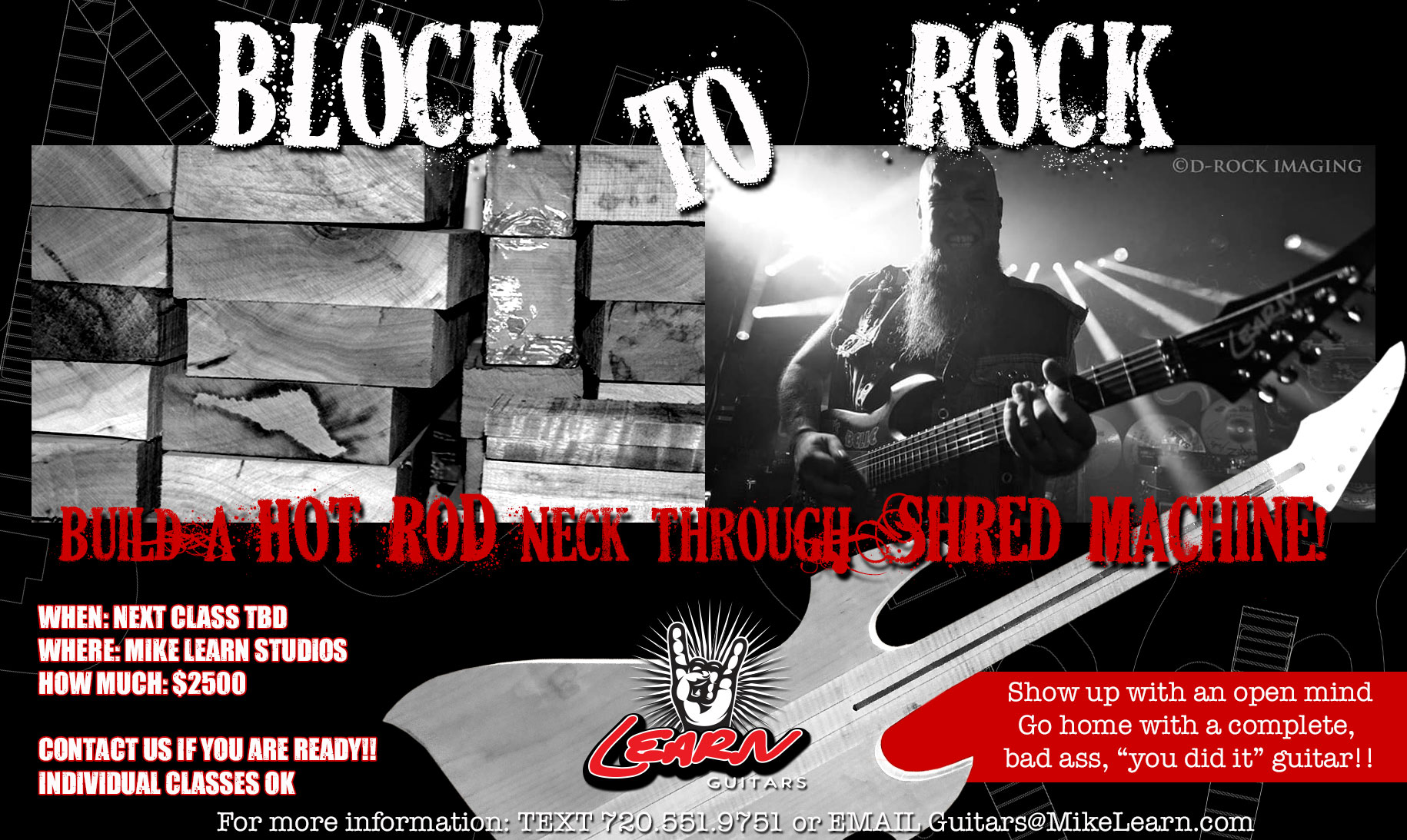 Join Us for 5 Days of INTENSIVE Guitar Construction Instruction!
Plan a trip to the beautiful Rocky Mountains and build a guitar while you are here! Mike has a 5-day course lined up that will allow you to design, build and FINISH a complete neck-through guitar. You will be busy every day and will have to keep up a pretty solid pace, however the class will be fun, interesting and will give you the opportunity to push yourself to your own "next level".
You will have the opportunity to design your body and headstock, create your electronics configurations and all the while learn different methods to achieve your sound, comfort and playing goals. Due to the time constraints of the class we will not complete a custom paint finish, but will utilize any of natural, woodcut, burned, oiled or burnished options (the woodcut option allows for extensive design!).
There is no experience necessary to take this complete guitar building class, though familiarity with the instrument will make many of the decisions a bit easier.
The tuition covers all instruction and materials (with the exception of electronics). Several weeks prior to the class date each student will receive a questionnaire and build sheet to begin the planning process and to ensure that configurations and designs stay within a certain expectation of feasibility. In other words - while we want you to design and create, there are limits to what can be completed in 5 days! 🙂
The shop is located in rural Boulder County, CO, not far from Longmont, Louisville or Superior. We are 45 minutes from DIA.
The class is $2500 with VERY limited seating. We will take a non-refundable deposit to hold a seat at this time and can set up a payment plan with a credit card. Please feel free to reach out with questions or to reserve your place!
OUR NEXT CLASS IS NOT YET SCHEDULED. IF YOU ARE INTERESTED, PLEASE CONTACT ME. PERSONAL, ONE ON ONE CLASSES AVAILABLE.
TEXT ME:720.551.9751 or send an email to Guitars@MikeLearn.com