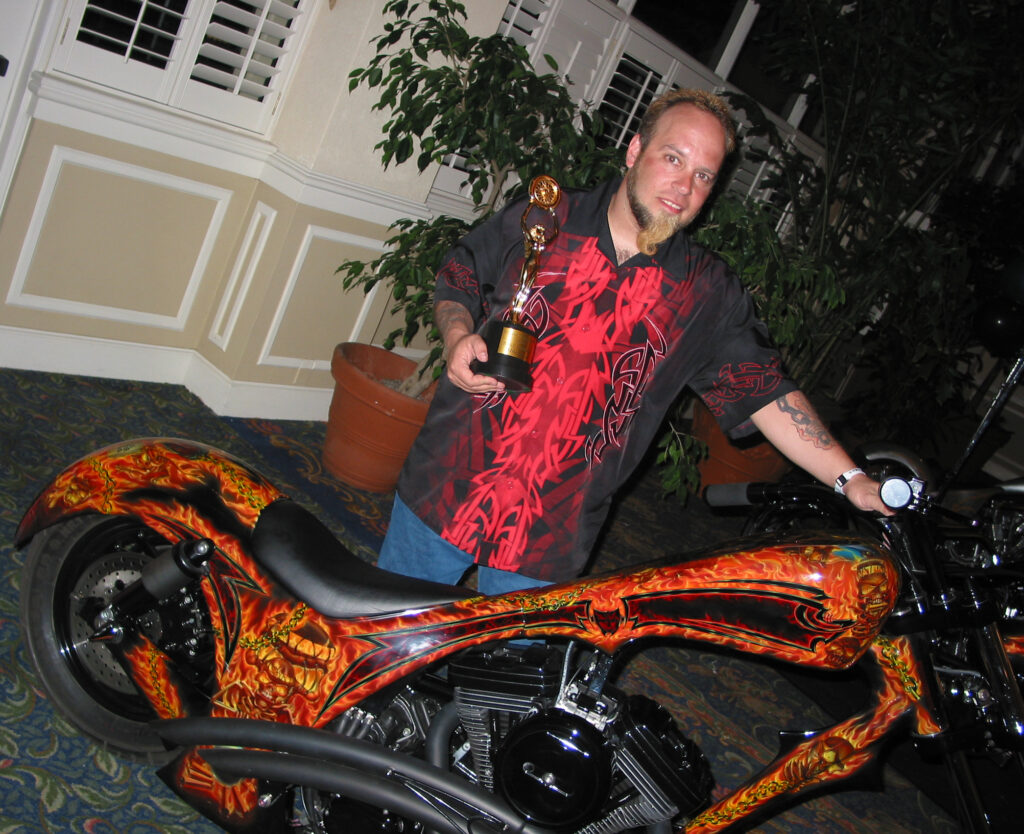 Mike has been drawing, painting, sculpting, modeling and otherwise "noodling" artistically since he was old enough to hold a crayon. He is also one of the "lucky ones" in that he has been able to turn his passions and talent into a successful career.
Mike burst onto the custom paint scene as a sought-after artist in the hot, hot, hot custom motorcycle market of the late 90's and early 2000's. In 2004 Mike won the prestigious "Easyriders Painter of Year Award" and that pushed the shop into "over-drive" for years afterward and has since painted thousands of bikes for hundreds of builders and individual clients.
When the custom bike industry took its turn, we pivoted to the music industry and connected with builders like Jackson/Charvel, BC Rich and D'Angelico to work with custom shops, endorsees, dealers, bands and musicians all over the world.
Mike's prolific career painting bikes, guitars and just about any other vehicle you can dream up, along with commissioned art, album cover work and a constant stream of innovation provides us with literally tens of thousands of photos and an eclectic portfolio that you can peruse right here at our home web site.
We update our galleries consistently, so be sure to visit often! The latest projects can always be found featured in the blog section or you can utilize the "Category" or "Home" menu to see stories on highlighted pieces. If you are interested in having a custom piece designed and completed, see our contact information below. We look forward to hearing from you!